5 Tips to Help You Buy the Perfect Dress Shoes
Dress shoes' is the name given to protective footwear, which you can use for both casual and formal occasions. You can even use them in heavy duty industries. These are quite similar to the shoes you typically wear with suits, but they come with many additional features such as steel toes and durable soles.
Now if you are looking to get a pair of dress shoes for yourself, but are not sure what to look for, here are 5 tips that would help you select the best pair for you.
Leather Quality

Avoid buying that high-gloss leather, which gives you a plastic feeling upon touching. This is inferior leather and wrinkles very easily. Not only that, it also cracks easily because of being very rigid and low-quality. Leathers that smell of chemicals are also a big no-no. Any smell that the leather should have is its own aroma or the polish it is given at the factory before shipping to the distributors.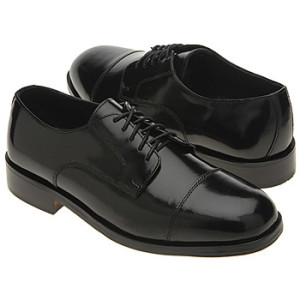 Remember, superior leather is supple yet firm. So, watch out for the leather quality as the first thing, when you are looking for a pair of dress shoe. Leather quality like that provided by Dansko Professional is a good model.
Unless you are less than 5 feet, shoes with heels higher than 1.2" (3cm) are better avoided. Wearing longer heels give a feeling as if you are wearing boots and just don't correlate with look of genuine dress shoes.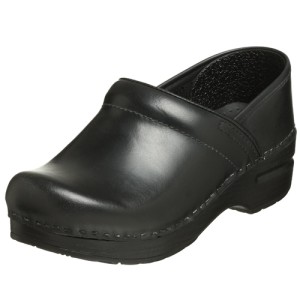 Anything getting too extreme turns unattractive, and same applies to boys dress shoes. A shoe which is too pointy, too round or too square is a big turn off. You are better-off avoiding anything that is too symmetrical. Instead, you should go for a pair with elegant curves that complement the silhouette of your foot. Of course, for people with a little blunt look to feet, a little elongation in the shoe's toe box doesn't hurt, provided it is not extreme.
Another very important thing to keep in mind while buying dress shoes is not to pair suits and shoes that do not complement each other. What that means is that you should not buy slim shoes if the suits you usually wear are baggy looking and are not really slim fit and you should not go for shoes with bulky ass soles, if you usually go for wearing skinny suits.
Choosing the right color of shoes
Even though wearing appropriate shoes and colors seem fairly inconsequential in the business world, but the fact is that your choice in shoes actually ends up saying more about you than you may realize. It is not only the style of the shoes that is important, but equally important is choosing the right color, more so if you are looking forward to make a great first impression.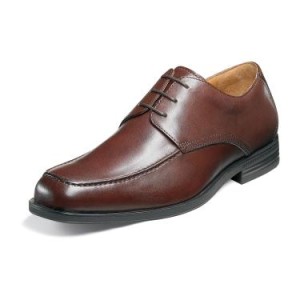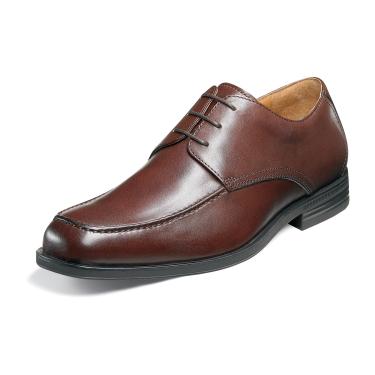 It is certainly not important to have your closet packed with so many pairs of shoes with different colors and styles to be able to create steadily well-matched outfits. On an average, you can survive quite well if you have 4-5 or pairs of wisely chosen shoes.
The basic most guideline to choose the right shoe color is to go for a shade darker than that of your suit. The given guidelines may help you to choose the right color: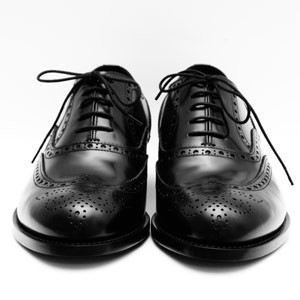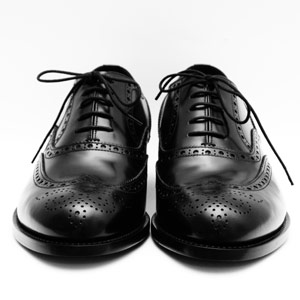 Black dress shoes compliment almost any outfit.

Brown dress shoes greatly compliment the earth tones, including tans and olive greens. However, it is important to note that they are considered a tad less formal than black shoes.

If you would be wearing gray or navy suits, burgundy or oxblood colored shows might be a great choice.

Camel or dark tan color shoes complement light browns, gray and light blue tones a great deal.
Last piece of advice 
Now that you know how to choose the best shoes, there are few other pointers, you want to keep in mind to make sure that they serve the purpose in the best way possible. Doesn't matter how good quality your shoes are, if you don't keep them in good condition or well-shined, they would just end up leaving an unfavorable impression. Thus, pay attention to their condition. What's more, when you take good care of them, they will also last you for a very long time.